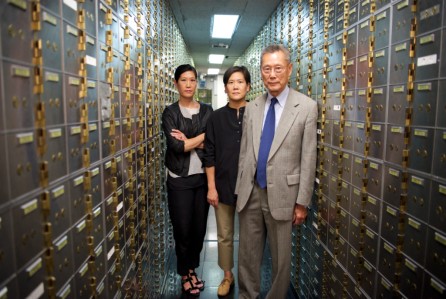 MR. SUNG, TWO DAUGHTERS, AND ABACUS DEPOSIT BOXES
Legal underdogs in the wake of the 2008 financial crisis
It's the 2008 financial crisis. Trillions of dollars are being paid out to save the major US financial institutions that are deemed "too big to fail." The alternative is perhaps "small enough to jail." Such is, apparently, in the eyes of the New York federal prosecutors, the Abacus Federal Savings Bank, a small family-owned community bank based in Chinatown in New York City's Bowery. And such is the thesis and the focus of this little documentary.
Abacus was, indeed, the only bank in the US indicted for mortgage fraud in the wake of the crisis. This lower key effort by the great documentarian Steve James (
Hoop Dreams, Life Itself
) elucidates and follows the case. It lasted five years and cost the defendants $10 million, and at the end of it, the bank itself was acquitted on all counts. The DA prosecution withdrew their plea bargain with their chief witness, the most fraudulent and guilty Chinatown bank staff member, Ken Yu, and he went to jail for six years. At the outset, eight other employees had been publicly humiliated, brought in for arraignment in front of the press linked together in chains.
In fact, some low-level employees
were
fleecing clients and taking cash fees and falsifying documents to get loans from higher-ups. The government took this as the sign of systemic corruption by the bank that apparently did not exist, and the management fired the main violator, once they knew of his behavior. Abacus had an extremely low default rate. Yet they were scapegoated, while the huge banks with huge violations got remunerated. It still remains somewhat unclear how much wrongdoing took place at the Abacus Bank. In his
Variety
review Owen Gleiberman points to the unproven elements in James's film.
But this isn't so much a story about the moral ambiguities of the court case or even about "too big to fail" vs. "small enough to jail" as the chronicle of a family - especially its patriarch, Thomas Sung, 79-80 years old, originally from Shanghai, US-educated, a lawyer turned banker to serve his community, founding the bank in 1984; his wife; and their four daughters - a tight, articulate unit (they all speak English among themselves).
James is also showing us how this bank worked in New York's Chinatown. It's an immigrant community, one of the most important ones. Sung and his wife watch
It's a Wonderful Life
every year, and his wife cries, because he sought to be like Jimmy Stewart - saving little people with an extra financial push. James shows clips from the movie, but he doesn't push it - just enough to show the Sungs truly identify with Stewart's character, George Bailey. He plays down the fact that the bank, though founded in Chinatown, has six branches in three states.
Watch for the combative, articulate exchanges among the women of the Sung family, who rally for much of the ordeal, and for the scrumptious Chinese restaurant meals they gather for to unwind or regroup. Watch Mr. Sung getting his his usual buzz cut. "Your hair is good, still erect," his barber proclaims. And Mr. Sung says as he gets older the haircut is more important. It makes him look young. His rigor, elegance and forbearance cast a subtle gleam of righteousness over the film. But a lot of it is good hair, a good haircut, and a quiet suit and button down shirt and tie.
Mr. Sung shows us the vault of the bank, unlike any other you've seen. Wall after wall of small safe deposit boxes: 8,000 of them. This is for the Chinese immigrant. He lives in crowded conditions, with no place to put his valuables other than a bank. The newcomers arrive with a culture of cash-only deals and purely oral contracts This is why both bank agents and loan applicants at Abacus have had a loose attitude about written agreements.
"This is called being a sore loser," says the defense attorney, after the Federal prosecutor's statement that the hard to arrive at not-guilty decision was "not an exoneration." If not, what is it? ("Exonerate," Webster says, means "to prove that someone is not guilty of a crime or responsible for a problem, bad situation, etc." Isn't that exactly what happened in the trial, if a jury's decision has validity? )
Actually, the judge's instructions to the jury (which we hear) specify that their duty is
not
to make an example of the defendants, only to decide their case by itself. This is very much the story of a government attempt to make an example of a little guy - while letting all the big guys not only go free, but be richly rewarded for their manifold failures and transgressions, the millions who lost homes. In the case of the Abacus Bank, there were minimal defaults on the loans and the mortgages stayed good. Yes, some of the statements in the loan papers fudged the facts.
Manhattan District Attorney Cyrus R. Vance, Jr denies any prejudicial treatment took place. In a revelatory moment, he says Abacus was treated no worse than if it had been Hispanic or Indian. Despite this cluelessness, this seems a case of aiming at an easy target, not racial bias. James is a little too much in the room with the Sungs, of course, and there is a degree of advocacy on their side. At least in hearing from the jurors, particularly the one who initially stood strongly for conviction, we realize that this is a difficult case. The bank did operate unconventionally - all part of playing George Bailey, though, since their aim was to help immigrants establish themselves in the American economy, an aim they have been achieving.
This is how I understand it, anyway. The intricacies of the legal case may have eluded me. It must be said that Steve James is providing only a quiet footnote here to the banking crisis and the great crash. He depicts the government's intimacy with corporate banking power only indirectly and this story is plainly told and low keyed. And the film must rely on courtroom sketches and live audio, with a few interviews with a couple of the jurors, while following the drama of the last days with the Sungs, with suspense about whether they will be destroyed or vindicated. But what stands out and will survive
Abacus: Small Enough to Jail
are the dynamics of this smart family of classically diligent first and second generation Chinese Americans who worked within their own community to help it do better, an ideal Thomas Sung learned from his father. What the big corporations don't offer.
And how the little guy must cheat a little to get ahead, while the big guy cheats big.
Abacus: Small Enough to Jail
, 88 mins., debuted a Toronto Oct. 2016; 16 other festivals. PBS Frontline releases. This review is for the US theatrical release that begins 19 May 2017 at IFC Center, NYC. Landmark Bay Area releases 9 June 2017 Opera Plaza San Francisco, Shattuck Berkeley.
Feb. 2018:
Abacus: Small Enough to Jail
is nominated for the Oscar for Best Documentary. Academy Award for Best Documentary FeatureNominees (2018)I. The others are:
Faces Places, Icarus, Strong Island
, and
Last Men in Aleppo
.