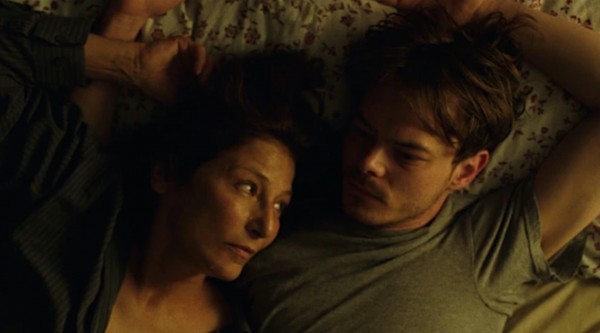 CATHERINE KEENER AND CHARLIE HEATON IN NO FUTURE
The sad truth that addicts can't always be helped
In this bleak drama (look at the title), a young man, Will (Charlie Heaton, 27, of "Stranger Things), jumps momentarily into a clandestine affair with Claire (twice Oscar-nominated Catherine Keener, 62), after her son and his estranged longtime friend and former bandmate Chris (Jefferson White) dies of an overdose. Will too has been an IV drug user, but is in recovery, and doing okay at the moment, though the crises of this story will undermine that fragile status. This movie fits into the dual categories, drug and recovery saga, May-December romance, with gloomy prospects for both. Heaton is understated and winning throughout, and Keener is strong as always, both low-keyed but very committed. Writer-directors Irvine and Smoot have an excellent cast to work with here and that's what holds you when the over-literal action starts to seem too grim to bear.
Maybe Will is offering himself as compensation, his survivor guilt compounded by his having been revisited by and rebuffed Chris, just out of jail, the very night he OD's at his mom's house. It was not a bad decision, but you understand people blaming themselves. Chris is unappealing and hopeless in his one scene, with Will, a strong, distinctive performance by White. Later it emerges that Will drew Chris into addiction with him.
No Future
begins with a twelve-step recovery meeting - a tired movie routine, but there's no good way out of them in a tale like this - that shows where Will is now: guardedly upbeat, with a new nurse's aide girlfriend, Becca (Rosa Salazar), who he's afraid of completely opening up to for fear if she fully knows him , she'll bolt. Will's father Philip, (a crisp, fit-looking Jackie Earle Haley) just checks his boy's arms for needle marks, and he causes trouble later when he visits Claire. He hasn't learned to trust his son, blaming him for his wife's demise, and significantly, he does not accept the idea that addiction is a disease.
Honesty in addiction is a crucial issue. Claire acknowledges to Will that she "enabled" Chris, that it was long just the two of them, and she couldn't save him. Will conceals from Claire meeting with Chris the evening of his overdose. He also lies to Becca that he's going to a meeting the night he suddenly leaves her and runs off to sleep with Claire. And while his recovery meetings provide Will with an essential safe oasis where he can be honest, he doesn't go to enough of them. Claire lies to a therapist her coworker pushes her into seeing, and so gets no benefit.
Spoiler alert: this film doesn't end happily. This is a truthful picture of how young lives can be brought down by addiction while the damage radiates out to loved ones. Does it have to be so grim and pessimistic? The one-track sincerity is underlined by score that relies heavily on long droning tones contributes to the claustrophobia.
No Future,
89 mins, debuted at Tribeca Apr. 15, 2020, where it was nominated for Best Narrative Feature. It also showed at Dallas International Film Festival Oct. 9, 2021. Reviewed at Tribeca by Sheri Linden in
Hollywood Reporter
and Tim Grierson in
Screen Daily
.
Gravitas Ventures release
No Future
in US theaters and VOD Oct. 22, 2021.
Metacritic
rating 65%.