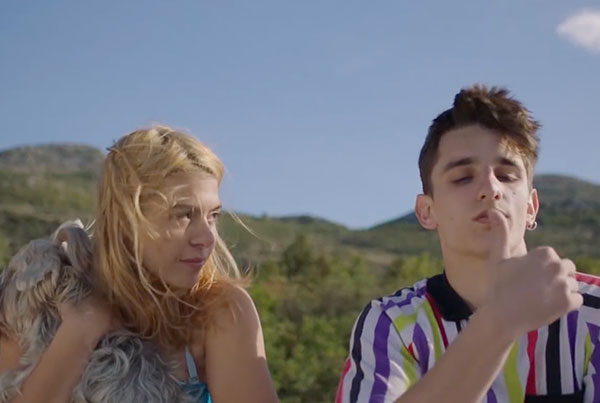 SARA LUNA ZORIC, LAZAR DRAGOJEVIC IN TAKE ME SOMEWHERE NICE
A bright journey through an unfamiliar homeland
There's a certain charming naiveté to saying your debut feature is inspired by Jim Jarmusch's 1984
Stranger Than Paradise
. Perhaps one should be kind about this. There aren't very many Bosnian features, out of Holland or otherwise. But - here's the big but - Jarmusch's film is a classic, one of a handful of truly iconic American indie films of the past forty years.
Take Me Somewhere Nice
is a beautiful, confident first film. But -
Stranger in Paradise
it's not, not by a mile.
Take Me Somewhere Nice
, which won the top prize at Sarajevo, of course isn't a terrible film at all. It just lacks the brilliantly original structure - the signature "fade in, fade out, fade in, fade out" scene framing Ebert praises in his original
review
. It lacks the brilliant writing that makes
Stranger
so jawdroppingly absorbing toward the end. It lacks the uniquely quirky and confident main characters. And it lacks the humanity. Jarmusch makes you love his pseudo-hipster goofballs. Sendijarević gives us youthful freshness. Her lead trio are more appealing than complex.
The Jarmusch influence does not run deep, but it is there in the basic way the characters are moved around. This too is a dry, ironic road trip involving two young men and a young woman visiting from another country, corresponding to Willie, Eddie, and Eva in
Stranger.
Alma (Sara Luna Zoric), like the director, is Bosnian born, but grew up and lives in Holland. Alma's cousin in Bosnia, Emir (Ernad Prnjavorac), has no use for her, as Willie has none for his visiting cousin Eva from Hungary, and Alma and Emir wind up traveling with Emir's buddy Denis (Lazar Dragojevic), the way Willie and his sidekick Eddie wound up traveling with Eva.
Stranger in Paradise
is mostly in English, but Eva and her aunt Lotte speak Hungarian sometimes. Willie utterly refuses to speak it, and has spent his ten years in the USA acquiring his deadpan hipster manner, learning to eat TV dinners ("this is how we eat in America") and his authentic New York accent. Is there some playing around with the way Alma speaks Bosnian because she's been living elsewhere? It would be nice if there were and nice to know.
Denis is borderline cute. Sendijarević has some sexual byplay in store for him and Alma. Probably one reason why
Stranger in Paradise
is so strong is because its three young people are not lining up to smooch. They're freestanding deadpan originals.
The plot-line and writing of
Somewhere Nice
are scattered. Alma has come to see her sick father whom she has never known, but precious little is ever made of this. There is all this stuff about Alma running off on a bus, being unable to get her suitcase opened - Emir can't open it either - but this somehow winds up being more memorable than it should be. Emir and Denis "kidnap" Alma. Why is this such a trivial event? Why does the bit with the cop and the coffin in the trunk seem like something we've seen before?
In
Take Me Somewhere Nice,
what happens, sadly, doesn't feel significant, whereas as Ebert puts it,
Stranger in Paradise
is absolutely brilliant at creating "a constant, almost kaleidoscopic experience of discovery," and entertainingly "making a mountain out of a molehill" over and over.
Take Me Somewhere Nice
all more or less reduces to Alma showing off and having sex with someone she shouldn't. Sendijarević loses her way at the end. The final scenes are confusing and certainly don't either resolve anything - or leave things ironically unresolved either. They just leave one puzzled.
Watching this movie without Jarmusch's black fade-outs, I felt lost. Instead there is a free-flowing, meandering structure, really not a structure at all. There is one compensation: the bright, candy-colored cinematography by Emo Weemhoff, and the way it's made more striking by the use of Academy ratio. There's a sense the square image wants to contain things but keeps failing. The film is a succession of beautifully composed images: you can see them lined up on the
trailer
. [Scroll through a lot of available stills
here
. The handsome visual style is what one remembers - not so much the events it's used to depict. The black and white stock used for Tom DiCillo's cinematography in
Stranger Than Paradise
isn't pretty this way. DiCillo more selflessly serves the characters, and depicts Jarmusch's sense of America as an urban industrial wasteland, a place memorably off-putting and strange.
But Sendijarević clearly has talent and ambition, who with the international attention her first film has gotten, will probably be able to go on to more substantial work.
Take Me Somewhere Nice
debuted in Jan. 2019 at Rotterdam and was part of the ACID program at Cannes in May; it was featured also at Buenos Aires (Al Este), Espinho NDDF (Portugal), Taipei, Guanajuato, Wrocław, Utrecht, and Cologne, all in the summer and fall of 2019. UK internet release was May 21, 2021, and French theatrical release is coming Jul. 7. US release by
Dekanalog
in theatres and virtual cinemas on June 11, 2021.