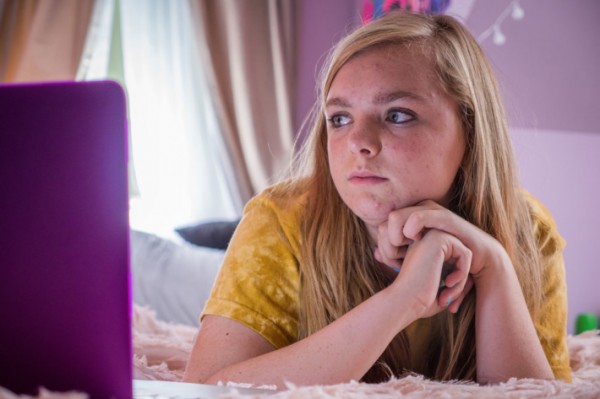 Moments of thirteen: all about being liked
Eighth Grade
is getting a lot of attention now and deservedly so. There are few original movies at this moment, and this is one. It's the portrait of a thirteen-year-old American girl finishing up her last year of what is now called "Middle School," though really, perhaps, the portrait is of the class in its final days.
The self-conscious, pimply-faced Kayla (Elsie Fisher) is named "the quietest" in her class. She never talks and has no friends. Her life is a disaster. To compensate, using today's media possibilities, she makes a series of YouTube videos giving advice on how to be popular, how to be bold, etc., that she would like to be able to take herself. These are ironic-pathetic self-portraits-by-contrast that ask for our pity - and get it, if feeling continually embarrassed for a protagonist so qualifies. We see the world through her. And at the end, we begin to see, with her, that she's really, probably, okay. This is a simplistic portrait of a person, even of a thirteen-year-oid. But the message is sincere, and it comes with a lot of portraits of other kids, and Kayla's father. This is, in the end, just a series of vignettes that recreate the embarrassment and danger of adolescence in the contemporary context of cell phones and social media where there are sexual predators and a possibility of school shooters.
We don't know if anyone watches Kayla's videos. They're certainly not going viral - and as a reminder of real YouTube success, there's a large black and white poster of Justin Bieber on her bedroom wall. At the end, with Gabe (Jake Ryan) on what might be considered their "first date," he turns out to have watched them and admired them.
But what is Kayla? Who is she? This is a portrait that in some ways echos a much earlier classic, Holden Caulfield in J.D. Salinger's
Cather in the Rye
. But Holden was worried about others, not himself. He was intelligent, sensitive, and he read books. Kayla is all nerves, worries, and self-consciousness. As Richard Brody of
The New Yorker
has written in a rare unfavorable review of this extravagantly admired film, Kayla lacks "substance, curiosity, interests, particulars, or—above all—impulses that would render her vital, complex, deep" - qualities the intensely reflective Holden has in spades.
It would seem today's teenagers as twenty-something writer-director-comic Bo Burnham sees them are just a collection of verbal tics, "like's," " "awesome,s," "whatever's," and the like, media ratings, Snapchats, texts, pouts, ratings, and, by the boys, predatory behavior like asking for sex photos. The action surrounds the last days of school and a few big moments that come with them for Kayla. There will be Middle School graduation, with robes and everything. Before that, there will be Shadow Day, when Kayla's class is sent to the high school they will be entering next fall and assigned to "shadow" a senior for a day. Kayla gets Olivia (Emily Robinson), who, rather to our surprise, adores Kayla and finds her "cool" and "awesome." And Kayla finds Olivia "cool" and "awesome."
Before this, a queen bee of Kayla's class, the persnickety, distant Kennedy (Catherine Oliviere), is forced by her mother to invite Kayla to her pool party. Here she summons the courage she recommended in one of her videos and, going into the water, she meets Gabe, whose nerdy, immature preoccupations and gestures serve as introductions.
Shadow day leads to a callback: Olivia allows Kayla to phone her, and invites her to hang with her and pals at the mall. After this, left alone in a car, comes one of the boy predators, Riley (Daniel Zolghadri), whose "truth or dare" seduction she wards off at the final after an intricate exchange that shows Burnham's capacity for concocting precise dialogue exchanges that keep the audience hanging on every word. He can be brilliant at creating individual scenes; but is less skillful at weaving them together into a narrative; into a complex world with a sense of place.
Kayla's crush, Aiden (Luke Prael), not much of a talker, is the one wanting inappropriate photos from girls.
When Kayla boldly crawls over to him at a school shooter drill, he reveals to her an interest in blow jobs. Kayla experiments with a banana in the kitchen just when her father walks in. Kayla's relationship with her dad (Josh Hamilton) is an embarrassment, an irritation, and a cliché, which is inevitable perhaps, for a story from a teen point of view, but the dad has no autonomous life.
Eighth Grade
plays with nostalgia, too, looking back and forward with time-capsule videos Kayla has recorded and now watches and now makes for the end of high school. What they add up to is, "whatever." If you don't make any friends, that's okay, because you'll make ones in high school. If high school sucks, that's okay too, because there's college. This is not reassuring, or anything but superficial.
But what is remarkable, and Brody somewhat overlooks in his eagerness to point out all this film's unmistakable faults, is how all its shticks and vignettes somehow come together into something funny and touching that feels fresh and of the moment, however shallow and devoid of substance it may be if you look deeper into it. This is because the writing is good, and the acting spot-on. Kayla's self-consciousness and nerves, as enacted with so much heart by growing up child actor Elsie Fisher, feel very real, and hold us in their grip at every moment. There is something brilliantly zen about Bo Burnham's method. And the time, which is not too long, goes by quickly. Like middle school. Or whatever. But you know what? This made me long, once again, for the great youth pictures of the Eighties.
Eighth Grade
, 93 mins., debuted at Sundance, appearing in at least fourteen other festivals, mostly domestic, including SXSW, San Francisco, Chicago, Seattle, and BAMcinemaFest. US limited theatrical realese 19 Jul. 2019. Watched for this review at a public screening at Kubuki, San Francisco. 23 Jul. Metascore 91%.