LÉONOR SERRAILLE: MONTPARNASSE BIENVENÜE/JEUNE FEMME (2017) - RENDEZ-VOUS WITH FRENCH CINEMA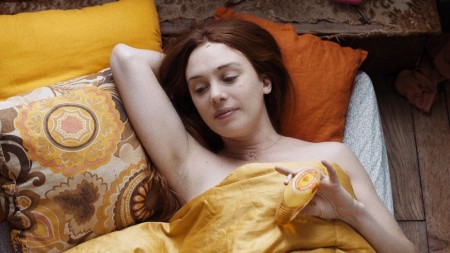 LAETITIA DOSCH IN MONTPARNASSE BIENVENUE
Portrait of a scatterbrained survivor loose in Paris
My fall 2017 Paris Movie Journal entry on this film was as follows: La Fémis graduate Leonor Serraille's debut feature, made with a largely female crew, stars Laetitia Dosch of Justine Triet's 2012
The Battle of Solferino
as an aimless young woman trying to get by in the Parisian neighborhood of the English title. The film, which is mainly a tour de force for its lead, who indulges every crazy whim yet implausibly juggles work in a cosmetics store and as an au pair and romances a handsome overqualified black security guard named Ousmane (Souleymane Seye Ndiaye), debuted in Un Certain Regard at Cannes 2017 and won the Caméra d'Or prize. "It feels a bit like Noah Baumbach's
Frances Ha,
minus the laugh-out-loud one-liners," wrote Peter Debruge in
Variety
. It's a feather in everybody's cap, if not a picture of impressive womanhood."
On a second viewing at the 2018 New York Rendez-Vous with French cinema I could appreciate the accomplishment of
Jeune Femme,
writing, acting, and editing, while confirming the reasons why it left me largely indifferent. The lead actress Laetitia Dosch is up to the demands of every hysterical or deceitful moment of her character, and the movie flows from one borderline implausible situation to another. It's quite implausible for them all to happen together, to the same person, in a short period of time, between Paula's dramatic breakup with her boyfriend and their reunion after he decides he wants her back. But the editing makes the action hold your attention and flow from one scene to another.
In Laetitia Dosch's virtuoso performance Paula is a ditsy mess, a chameleonic survivor who gets away with murder because she is young, though not as young as you may think, 31, or so (she lies about that, of course). It's hard to feel any empathy for this confused but durable character who quickly creates a emptiness around her wherever she goes, leaving secondary characters no time to take clear form.
The social background of bourgeois Paris is only vaguely sketched in, subordinated like everything else to the character Dosch plays with élan. When a group of women get hold of a camera, why is his the kind of young woman they want to portray? She's not a model of anything but energetic confusion. When she interviews for the part-time job selling women's undies in a mall - where she meets the econ graduate working as a guard, Ousmane (Souleymane Seye Ndiaye) - she says she's "obsessive" about detail, and she tells her boyfriend Joachim Deloche (Grégoire Monsaingeon) she loves this job and doesn't want to leave it. But she also wants to go to university and study literature, though Joachim points out she's never finished a book. The other job storyline is playful, appealing, but implausible. A well-off woman lets her take charge of her little girl with no references. The spoiled little girl is inexplicably won over by her and doesn't want her let go despite her many mistakes. The cat - must every disheveled city wanderer have one in tow? - is a thread that only reminds us that this small feline is as rounded as any other character.
Another implausible but momentarily entertaining riff is the temporary friendship with Yuki (Léonie Simaga), the dark-skinned, attractive lesbian who mistakes Paula on the Métro for an old school friend and takes up with her because Paula plays along. Yet another is the sudden on-off relationship with her long estranged mother.
All these subplots hold the attention for a while, but they fail to add up to a distinctive mood. With so little actual character development, this movie's short run-time feels long. Did it really deserve to win the Caméra d'Or at Cannes? Probably not. One can't damn a first film this accomplished or a performance this attention-getting, but critically, Léonor Serraille got really lucky.
Montparnasse Bienvenue/Jeune Femme,
97 mins., Cannes Un Certain Regard May 2017 winning the Caméra d'Or prize; at least 22 other international festival showings. Release in France 1 Nov. 2017. AlloCiné press rating 3.9; Metacritic rating 80%. Watched originally at UGC Odéon on opening day 1 Nov. Re-watched at the 2018 Unifrance-Film Society of Lincoln Center Rendez-Vous with French Cinema at the Walter Reade Theater 12 Mar. 2018.
Showtimes:
March 9 9:30 PM
March 12 1:15 PM