ROD PARADOT (CENTER) IN STANDING TALL/LA TÊTE HAUTE
A wild French juvenile survives the system
Again a film that needs trimming, but we get a fulsome view of the awesome acting abilities of newcomer Rod Parasot as Malony, a juvenile delinquent with big time rage and impulse control problems, a penchant for stealing cars, a ditzy mess of a mom (Sara Forestier). He seems doomed, yet the French system seems more forgiving than some, and he has a humane judge (Catherine Deneuve) and a caring counselor (Benoît Magimel) on his side, as well as a girlfriend. Paradot is an incredible young actor who makes one think of the young Leo DeCaprio, whom he even somewhat resembles, and it's not surprising that he's one of this year's César nominees for Most Promising Actor (Jeune Espoir Masculin) -- along with Finnegan Oldfield (for
Les Cowboys
), seen in
Bang Gang
in the 2016 Rendez-Vous series*. Malony's gf Tess is played by Diane Rouxel -- and she's a Most Promising Actress nominee.
The film takes us in and out of the office of friendly Children's Judge Florence Blaque (Deneuve) more times than we can count, and there are many impassioned meetings between Malony and Yann (Magimel) and Yann and the judge. It emerges that Yann was once somewhat in Malony's place. Magimel, who started acting at 14 and has won many awards and been in many notable films, looks burnt out at 41, and it's believable when his character says he doesn't think he can go on. Judge Deneuve too loses faith in Malony, but only once; she even visits the juvenile center where Malony is being held, for his birthday, and when Malony comes to see her carrying his baby, they hug. Too good to be true? A little, and sometimes the temper tantrums and fights among the boys seem over-the-top. The point is more than amply made that Malony is truly a bad boy: he just can't stop stealing cars and flying into rages, and his first sex with the adoring Tess is more alike an assault.
This is where some of the excess needed to be trimmed, to make way for the time when Malony starts to settle down and have hope and faith in himself. But Bercot proves adept at directing chaotic emotional scenes, particularly involving young guys. (She played a movie full of such drama herself opposite Vincent Cassel in
My King/Mon roi
, the role that got her the Best Actress award at Cannes, and also in this year's Rendez-Vous). Since
Standing Tall
was chosen as the opening night film at Cannes, Bercot was certainly a presence at the festival. And Rod Paradot too, a surprising one, an acting "virgin," pulled out of a carpentry apprenticeship program and blooming under Bercot's stern tutelage into a thespian of unusual promise. Partly he was chosen because physically he could play both teenager and young adult, but that's only part of his magic.
Standing Tall/La Tête haute
, 119 mins., debuted in Competition at Cannes where it was the opening night film. It was highly praised by French critics upon its 13 May local theatrical release (AlloCiné press rating 3.9/21). A Cohen Media Group release in the US,
Standing Tall
opens Fri., 1 Apr. in NYC at Lincoln Plaza Cinemas6.
*Rod Paradot won the César.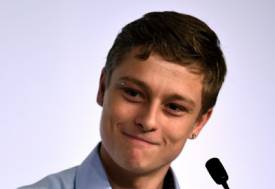 ROD PARADOT RECEIVED 'MEILLEUR ESPOIR MASCULIN'