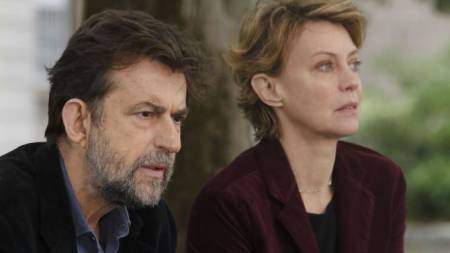 NANNI MORETTI AND MARGHERITA BUY IN MIA MADRE
'Son's Room' director Nanni Moretti approaches death in the family again, with more mixed results
Moretti dealt with the loss of a son in the gut-wrenching 2001 film
The Son's Room/La stanza del figlio
, which was showered with awards, including the Palme d'Or and FIPRESCI Prize at Cannes. Inspired by the loss of his own mother, a Latin teacher like Ada here, mortally ill in hospital, affectingly played by stage actress Giulia Lazzarini, Moretti has approached the death of a mother in a more crabwise fashion, though Brechtian effects do not keep out the sentimentality, for this would seem an exercise in what Manohla Dargis in a
Times NYFF preview
calls "tear-soaked comedy." As Dargis also says, Moretti has (always had) "a habit of crossing the line from pathos to bathos." Distractions are provided in the form of a pair of quite different adult siblings, with Margherita Buy as Margherita, Giovanni's (Moretti's) film-director sister, and with the film she's making, on an unrelated subject, a factory strike -- and above all with the major distraction, which arguably may bring down the movie or pull it out of whack -- an uncontrollable, badly miscast American actor played by John Turturro brought in to play a new factory administrator in the strike movie.
Make no mistake,
Mia madre/My Mother
(nothing indirect about the title, either) has its share of sentimental moments eventually, like the scene where Margherita's teenage daughter Livia (Beatrice Mancini) sobs uncontrollably and pulls the covers over her head in bed, or (most touching to me) the former student who turns up unknowing when Ada has just died at home and recounts how she was a touchstone and inspiration to him and someone he visited whenever he was in town -- and so on: the tributes and memories are economically and touchingly sketched in at the end.
How death derails a family -- the focus of the whole second half of
The Son's Room
-- is depicted here before it happens, while Ada lies in hospital and Margherita and Giovanni are still struggling to get their heads around the fact that she is not long for this world. Giovanni gets it, or would appear to: he's the one who points out the hard facts to Margherita. But on the other hand, it also derails Giovanni: he can't cope with his job, at least, has taken a leave of absence, and tells his boss (the nature of the work left vague) that he is resigning for good. As for Margherita, her behavior on set is consistently peculiar.
I have a couple of reservations about this film. Margherita's derailment is indicated by not only her odd manner while working with cast and crew, but also by a series of real-seeming nightmares she has. The trouble with them is that it becomes hard to separate reality from confused daymare -- which blends with Ada's growing confusion, the latter not necessarily senility. She has at least one sane Latin lesson with Livia after she returns home. It's just what being in a hospital does to an older person (and I saw this in my own very sane mother).
But the derailment of the film and film-within-film is Barry Huggins (John Turturro). True, this is intended. And Turturro (but why should this obviously Italian-American actor be given an Anglo name?) performs his function as disruptor of the film with panache. Though he understands and speaks Italian, he has enormous trouble remembering his lines of Italian dialogue for the film. Every time he has a scene to do he comically, but also annoyingly, makes a complete mess of things. And he is arrogant, ultimately declaring his lines shit, the screenplay shit, and the movie shit (after declaring Margherita "a great director"). Barry is a disaster. And meant to be. But the absurdity of this character walks away with the film and sits ill with its topic of adjusting to the decline and death of a parent. I was never sure if Turturro was
playing
a bad actor or just
is
one, and by the end I leaned toward the latter. There is no subtlety in his performance.
Furthermore, let us note that although Lazzarini is fine and the most real person in
Mia Madre
and her scenes are affecting, the film slights Ada's point of view. You may want to shake Margherita and tell her to get over herself. Her confusion and daymares are also a kind of self-dramatization that seems unbecoming. When interviewed Moretti has said that he's more Margherita than her brother; that Giovanni is the wise and grownup person he'd like to be but is not.
The greatest contrast one could think of is Michael Haneke's
Amour
. Doesn't Haneke play it more or less straight? And could any film about the death of an elderly loved one be more real, true, and tough-minded?
Mia Madre
is an interesting film in its way, but however original and inventive can't touch
Amour
or the authentic feeling of
The Son's Room
. As Jay Weissberg says in his
Variety
review, "Moretti's exploration of loss is unquestionably affecting, and
My Mother
has powerful moments, yet they're not always well integrated with the broadly pitched moviemaking scenes, featuring a caricaturish John Turturro."
Mia Madre
, (My Mother), 106 mins., debuted in Italy 16 April 2015, and at Cannes 16 May, winning the prize of the Ecumenical Jury and subsequently a raft of Davide di Donatello awards in Italy. Showing 27 Sept. in the NYFF, where it was screened for this review. An Alchemy release. U.S. Premiere. French release set for 2 December 2015. (It received raves, AlloCiné press rating 4.4.)
US theatrical release by Music Box Films NY and LA 26 Aug. 2016.