EMILY ATEF: 3 DAYS IN QUIBERON/3 TAGE IN QUIBERON (2018) - SAN FRANCISCO BERLIN & BEUPMD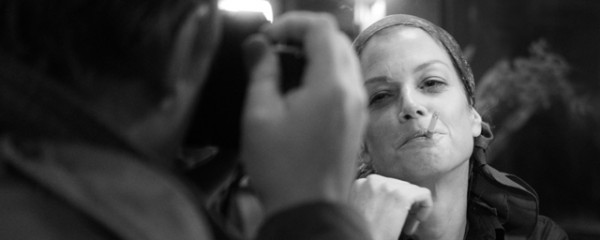 115 minutes of glamorous despair with Romy Schneider, 1981
This film, based on a last interview, features Marie Bäumer, wonderfully cast and a striking likeness as the glamorous and despairing Austrian movie star and pan-European gossip diva Romy Schneider, who died a year later, at 43. She is past her early years of stardom as a princess in the Sissi series. Decades earlier she'd made a movie with Alain Delon, fallen in love with him and he with her, and moved to France to make films there. But, though she was in some very interesting films, they don't seem to mean much to her. Various affairs have gone wrong since. Her young teenage son David - who will shortly die tragically at 14 in emergency surgery after an accident - has declared that he prefers to live with his stepfather. She's supposed to be drying out. That doesn't last a day. The setting is a spa, chic rehab, or just a hotel (it's all shot at a five-star beach side Sofitel in Brittany, where the Quiberon of the interviews was located).
This is a movie that revels in glamorous despair. But it's not the fabulous anomie of Antonioni. It's a tritely literal recreation of an actual event involving a film actress who feels her career has gone nowhere and sees her life as being a mess. The aspect ratio is very wide, and the images are black and white, to striking effect, especially in the external shots. The opening ones, long shots of the seacoast and the long, low hotel, with its extended horizontal and little verticals, use the format beautifully, are lovely in an understated way and make you hope for Antonioni.
3 Days in Quiberon
is a well-acted, well-meaning film that continually looks great. But Antonioni isn't coming. This is, as Jay Weissberg said in his Berlin review for
Variety
, a " respectful, by-the-numbers recreation" of a "major interview" that captures some of the actress' "charm and vulnerability," but adds nothing more, not quite the grace of cinematic art. Similarly Stephen Dalton in
Hollywood Reporter
calls the film "handsome but shallow." Not that there are not some good moments, and many nice images, and Marie Bäumer's looks and ceaselessly magnetic performance.
Heedless of the warnings of her childhood friend Hilde (Birgit Minichmayr, her character actually an invention of the screenwriters), who arrives in the early frames, Schneider chooses to pour out her soul in a long interview, extended over three days, with a ruthless and pushy
Stern
magazine journalist called Michael Jürgs (Robert Gwisdek), who comes accompanied by her former lover photographer Robert Lebeck (Charly Hübner). (Actual photos taken by the reeal Lebeck show Jürgs to have been a more appealing figure.)
On the first night they all sneak out, Romy, Hilde, and the two journalists, to a local bar. Despite its being closed for a private party, recognition of the star leads them to be welcomed and they meet Denis Levant wildly disguised as a flamboyant local artistic-poetic type (he's billed as "Fisherman Poet"). His rough recitation and bizarre manner will be the only unusual notes in this evening. Romy orders champagne, and they bring several bottles - for starters. Everyone always has a lit cigarette in his or her hand. There is dancing. There is all night drinking. Schneider's obviously got a drinking problem, and the "spa" isn't going to put a dent in it.
Next day, again to Hilde's objections, Michael and Bob arrive with wine at the larger suite they've reserved for the interview. Right away, the journalist turns this more into an abusive encounter session than information-gathering. He encourages Romy to pour out her despair and she obliges. Hilde warns her "they will print everything" and repeatedly urges her to call a halt to the proceedings but Schneider doesn't care. She expresses indifference at how the public sees her. "Bob," ostensibly friendlier, is on hand for intimacy and many clicks of his Nikon. At one point, after Hilde has decided to leave the hotel (though she doesn't, yet), and Jurgs has gone back to his room, and Romy lies in an insomniac stupor, "Beau" Bob crawls into bed with her. But it's not sexy or even very comforting. It's more just symbolic of Schneider's lack of borders and both journalists' invasiveness. His is a soft invasion, and his partner's is a hard one. Jürgs is calling his editor and telling him they've gotten the most intimate interview Romy Schneider has ever given.
Actors make love to cameras, and next day, Bob finds Romy down on the rocks. The four are still there, and she suggests he take photos, and he does. This time she is joyous and playful, and the score is sweet. After all the wine-soaking and wallowing in unhappiness, this moment of happy sobriety in the chill of day is a welcome contrast. But it comes after the film has gone too far the other way. The running-and-snapping on-the-rocks sequence is allowed to go on much too long, and the soaring happy music starts to grate. But there's a point. Romy is overdoing this too - and Bob is encouraging her. She falls and breaks her ankle, messing up the schedule of her next film.
This is all, of course, an imaginative recreation, even if by-the-numbers, and the Hilde character, seemingly added to introduce a kind of inner voice warning Schneider to be sensible and restrained, also represents a plot line that seems tentatively sketched in, as when her character repeatedly threatens to withdraw, then doesn't. Likewise this film seems a sketch, good as far as it goes, a superb international showcase for the talents of Marie Bäumer, but still falling a little short as a portrait of such an icon of European cinema as Romy Schneider.
3 Days in Quiberon/3 Tage in Quiberon,
115 mins., debuted at the Berlinale, 19 Feb. 2018 and opened theatrically in Germany 12 Apr., winner of seven 2018 German Film Awards, including Best Picture in Gold, Best Director, and Best Leading Actress. It showed in seven other festivals and opened also in France (with very good reviews: AlloCiné press rating 3.7), the Netherlands, Russia, and the UK. Screened for this review as part of San Francisco's 2019 Berlin & Beyond.
Showtime, Berlin & Beyond:
Sat. March 9, 2019 3:15 p.m.
Castro Theatre, San Francisco
Northern California Premiere