ULISES PORRA GUARDIOLA, SILVINA SCHNICER: TIGRE (2017) - SFIFF
Tropical decadence
Compared, for good reason, to Lucrecia Martel - but the Latin Americans in general have a knack for decadent atmosphere - this debut film by the couple, Ulises Guardiola and Silvina Schnicer, delivers a heady, sensuous but surreal gabble of people and place. The scene is a boarded-up island family estate in the semi-tropical Argentinian Tigre Delta, a musty house revisited by three generations, there to decide whether or not to sell the property. Or, in the case of the young, to hang out, to flirt, and to play strange, menacing sexual-ish games. The roar and hum of developers, it is said, can be heard upriver. Unfortunately, as you can clearly tell in the first five minutes, there's going to be more mood than plot. This is a bit strange, because the issue of whether they must sell, and if they can do so advantageously, is such a clear-cut one. But the tropical heat makes people lazy, and obstreperous, and the wine flows, as well as the whisky.
As the family navigates their relationship to their home and local kids engage in forbidden games, various interpersonal conflicts that arise lead to a powerful crescendo that will make up for all the meandering: the filmmakers have admitted they have thrown together multiple stories, evidently with an aim to create a pleasing complexity, the mystery of the real, with resolution far from anybody's mind most of the way (which fits Martel's
Zama
rather well too).
I refer the reader to Jessica Kiang's
Variety
review from San Sebastián, an impressive effort in which she describes
Tigre
in lush and appreciative detail. The main thing is that the film sketches in the separate action of the matriarch and younger women, her quietly adversarial, covertly hostile son (he wants to sell the property, she insists it "non se vende," is not for sale), while the younger people meander around playing their
jeux interdits
. The frazzle-haired Rina (Marilú Marini) is sixtyish, but there's life in the dame yet. She tells her friend Elena (María Ucedo) about a recent mating she's staged in a motel, though it didn't go well, and she ditched the app, and lost or broke the phone, it's not clear which. The son is Facundo (Agustín Rittano), whom Kiang calls "middle-aged," though he doesn't look that old; no doubt he's still a player too. His and Rina's conversations are clear, but always at cross-purposes. Elena's daugher Sabrina (Magalí Fernández) is around, with best friend Meli (Ornella D'Elia) and the gawky but cute Estebán (Tomás Raimondi). As a contemporary note, some of the young people have tattoos and piercings. Here in the wilds, these play-tribal markings look more serious.
As
Variety
points out, a local boatman's preteen daughter is the center of attraction for a gaggle of smaller younger boys, whom she dominates "with primal 'Lord of the Flies'-style wildness." But of course
Lord of the Flies
is all boys, and this whole scene, old to young, has sex in the air. Also menace, as Estebán finds a cache of weapons that used to belong to Facundo, including a brace of hand-crafted spears and a big powerful sling that he hastens to use to down some poor bird. A feral-seeming boy from the village covets them. And one boy apparently is becoming paralyzed. The varied, meandering population wallows in sensuality, while some menacing practical boom waits to be lowered, a decisive step to be taken, as in a play by Tennessee Williams.
Some of this celebration of sensuality seems borderline implausible. If this house is so remote and boarded up, how did they got all this food and drink in, a whole goose, free-flowing wine, and how come everything, such as the fridge, works so well? But the filmmakers weave the increasingly menacing atmosphere so well, and the dp Ivan Gierasinchuk uses sweaty closeups with such vivid effectiveness, we rarely stop to question, merely holding our breath, as things get tenser and crazier, as the owls hoot and the crickets whir, for the inevitable violence, from whence it will come, we know not. (There is rarely music, mostly a satisfying wealth of ambient sound.) In the end, the mood and plot catch up with each other, and this accomplished first film justifies its meandering with its richness.
Tigre,
91 mins., debuted at Toronto Sept. 2017, also San Sebastián, Atlanta, Fribourg, Miami, East End and others, and screened for this review as part of the San Francisco International Film Festival, Apr. 2018.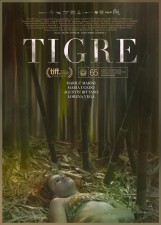 SHOWTIMES SFIFF:
Friday, April 13, 2018 at 8:30 p.m. at BAMPFA
Saturday, April 14, 2018 at 5:00 p.m. at Roxie Theater
Tuesday, April 17, 2018 at 1:30 p.m. at Victoria Theatre