Oscar Nominated Shorts - Live Action. (2017).
Films from Hungary ("Sing," 25 mins.), about a mean middle school teacher who makes some students in a chorus only "mime" so they can win competitions; from Denmark ("Silent Nights," 30 mins.), about a woman who falls in love with a desperate refugee from Ghana; from Spain ("TimeCode", 15 mins.), about a couple who fall in love through secret hip-hop dancing while working as security guards (this one the top Palme d'Or shorts prize at Cannes); from France ("Enemies Within"/"Ennemis Interieurs", 28 mins.), about a life-long French resident Algerian-born man applying for citizenship who's suspected of terrorism; and Switzerland ("La femme et la TGV"/"The Woman and the TGV", 30 mins.), starring Jane Birkin as a ditsy small town baker who returns to focus on her life after the failure of a correspondence romance with a train conductor, supposedly based on a true story. Though "Silent Night" is blatant in its earnest attempt to focus on issues of the day, racism and immigration, alcoholism and unplanned pregnancy (you name it), I'd have to say that and the thought-provoking "Sing" were the best, though I liked the silly, fun aspect of "TimeCode," which may be the most memorable."Enemies Within" is urgent and spot-on but overlong and somewhat ambiguous in its direction. Overall these films, though certainly qualified for prize consideration, lacked some of the intensity and concision of previous years. Watched at IFC Center 12 Feb. 2017.
John Wick, Chapter 2 (Chad Stahelski 2017).
"After returning to the criminal underworld to repay a debt, John Wick discovers that a large bounty has been put on his life." The hero, a vicious and invincible assassin, is played by Keanu Reeves. This was meant to be fun and relaxing but while some in the big audience in the large auditorium laughed, it was just numbing and dark. On the plus side, this is the same former stunt coordinator turned director who did the first film, and it's written by Derek Kolstad, who penned the original (which I missed). On the other hand the high Metacritic score (75%) is incomprehensible, and I side with Mick LaSalle of the
San Francisco Chronicle
who gave it a 28, and wrote, "No, this is not good. This is just not good." From the look of it, this series is mindless, ultra-violent, and stupid. Reeves has never been more wooden. I guess the character is so brutish and inarticulate it was deemed a good fit. That's sad. There is no plot you can care about here, and Stahelski's helming results in some of the year's worst acting - by everyone, including Italian glamor boy Riccardo Scamarcio, who looks terrible here, John Leguizano (who makes no impression) and Laurence Fishburne (who's embarrassing). Scenes in Rome are pretty in a dark, kitsch way, but the settings are irrelevant. Avoid. Watched at Regal Union Square 12 Feb. 2017.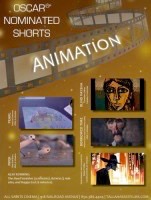 Oscar Nominated Shorts - Animations (2017).
Consisted of a series of quite short ones and a longer one at the end, Robert Valley's
Pear Cider and Cigarettes
. that you're warned to shield kids from because it has strong language and sexual references. It's far and away the most memorable of the bunch. It's the filmmaker's autobiographical recollections of a childhood friend he calls "Techno" who was a wild kid he winds up in China with awaiting a liver transplant for Techno, who is by then rather the worse for wear. It's kind of a walk on the wild side, and the salty, deep-voiced voiceover narration keeps you closely involved while the images, more tilted panoramas of a colorful graphic novel variety than innovative animation, give you a visual reference. "Techno" is presented as a lean, seedily handsome chap. Much of the rest are visually uninteresting, including the Disney/Pixar offering, "Piper." It shows they can miraculously imitate the look of foamy surf on a sandy beach (but is that neceassary?): when they get to the playful sandpiper, the film descends into cuteness. "Blind Vaysha" by Theodore Ushev (National Film Board of Canada) recommends itself because it has the look of color woodcuts. There's a voiceover narration so we're told a story, but the theme of a person born with one eye that sees the past and the other that sees the future never makes much sense, except for the trite message to "live in the present." "Pearl," which traces a little family's lives and dreams through the music they listened to crossing the country in an old car, is a nice idea, but it's too complex for the short runtime.
A runner-up we're shown by Alicja Jasina, is a student winner called "Once Upon a Line," that tells of a commuter office worker drone whose life is transformed when he meets a lady and falls in love. This has the kind of absolute minimalism that shows animation at its best. If only there had been more such distinctive, minimalist gems as in other years or in Best of Annecy. But this was an uneven year, it seems. Watched at IFC Center 13 Feb. 2017.
Oscar Nominated Shorts - Documentary A.
Of the Oscar-Nominated Shorts, the documentary category, as in other years, sweeps the field (of Animations and live action) in brilliance and emotional heft. This year they comprise five short films, three of them about the war in Syria and refugees. The non-war two begin with "Joe's Violin," directed by Kahane Cooperman, about a Polish holocaust survivor sent to Siberia who came to the US at 17, a NYC resident, who in his late 80's joins a program of musical instrument donations to city schools, His violin that he bought for a carton of cigarettes at a refugee camp goes to a high school girl in a special school in the Bronx where all the girls study violin. He meets the girl, a touching moment. One criticism: we learn a lot about Joe, not much about the girl. The other is "Extremis," by Dan Krauss, a teacher at UC Berkeley's School of Journalism, focusing on a few patients in the ICU on life support whose family members and a d Dr. Jessica Nutik Zitter, the Oakland palliative care physician, discuss the painful topic of what to do. This short, intense treatment brings to mind the previous feature doc
The Waiting Room
, which similarly focused on Oakland's Highland Hospital. This is a topic worth a longer film. Last in this presentation comes "4.1," focused on a Greek coast guard captain who's one of those tasked with trying to save the thousands of Syrian refugees sent from Turkey by semi-criminal "smugglers." The topic resembles Gianfranco Rosi's
Fire at Sea/Fuocoammare
, but lacks Rosi's quirky dual subject matter and emphasizes the burden on the good guys in this desperate situation. And Rosi'f ilm is about Lampedusa, near the Libyan coast, receiving refugees from Africa. "4.1" was directed by a student at UCB's "J School" where Dan Krauss teaches, Daphne Matziaraki.
Oscar Nominated Shorts -Documentary B.
Presents two longer docs, both powerful, and about the war in Syria. The first, "Watani" (وطني)/ "My Homeland," is by Filmmaker Marcel Mettelsiefen, who has been covering the Syrian Civil War for "Frontline," and is stunning, and beautiful, one of the best documentaries of the year, hands down. It concerns a Syrian family living in a neighborhood inAleppo right on the edge of ISIS (which everybody but US seems to call "Daish," including Arabs, "for The Islamic State of Iraq and the Levant or "al-Dayla-l-Islamya f-l-Iraq w-ash-Sham"/الدولة الإسلامية في العراق والشام), because the husband and father is fighting for the revolutionaries. Someone names him, and he's captured by ISIS. Later the mother and the four children, a boy and three girls, go to Turkey, where they get visas to go to Germany, and are given a house in a small town whose aging population is dying out. Mettelsiefen and his crew follow this story seamlessly, and each family member is given a constant voice, and they are stunningly articulate. Mom is sad in Germany, but what's heartening is how the kids take to it, loving their school, and the eldest girl, Helen, is transformed into a liberated young woman. Thrilling stuff.
Not far below this is Orlando von Einsiedel's "The White Helmets," about the local team of Nobel Peace Prizewinning lifesavers in Syria who have saved over a hundred thousand lives, unearthing bombing victims from under the rubble. These mostly young men have a purity and hope that's deeply touching. They deserve to be in a class with Desmond T. Doss,the selflessly brave WWII hero so beautifully played by Andrew Garfield in Mel Gibson's
Hacksaw Ridge
: one of them says as he does that they have decided it is better to save souls than to take them. Again, wow. And these two films are a great lesson in Syrian Arabic dialect. Also watched at IFC Center 13 Feb. 2017.
Contemporary Color ( Bill Ross IV, Turner Ross 2016).
This is a preview from a press screening; a review is coming at the 1 Mar. release. The directors whose
Western
I very much admired in the 2015 ND/NF series, have taken on a 2015 event in Brooklyn's Barclays amphitheater staged by the Talking Heads' David Byrne, celebrating "color guards," high school halftime football performers who dance and throw and catch and twirl wooden rifles, poles, or flags. He picked ten color guard teams and created a hybrid event by pairing them sequentially with ten pro musician-song writers, Grammy winners and collaborators (including himself). This was an emotional event for the young performers from the boonies (including Canada), perhaps a stimulating one for the music people. Unfortunately the Rosses' presentation too often presents the dance-twirling in a choppy way or interrupts it, and incidentally the music, with sidebar stuff about the announcer, the leadups to the show, and so forth, killing the drama and showing the performances so close up you miss the beauty of the synchronized collective event. The closeups show how often the kids are overweight. America: go on a seriious diet, and now! At IFC Center 14 Feb. 2017.
Stray Bullets (Jack Fessenden 2016).
Two 16-year-old boys out in the country cleaning a trailer so it can be sold are waylaid by three criminals on the lam from a job gone wrong, à la
Reservoir Dogs
. The storyline is familiar stuff; Tarantino didn't write the dialogue; and the ending isn't that great. But wait, there's just one thing: Jack Fessenden, who also plays Connor, one of the boys, and son of longtime indie filmmaker and actor Larry Fessenden, made this first feature when he was literally sixteen years old. And given that, it's more than okay, a very precocious effort. As has been noted, Jack's distinctive touch is "a sense of quietness." In other words he knows how to let the action breathe, and that's rare. There is one good jolt in it. He also has James Le Gros and his father as two of the crooks (Larry was also dp). Thanks to this family affair, the tech details are worthy of the big screen. A novel experience and one I did not regret for a minute. Let's hope Jack doesn't wait too long till he makes his next movie. This kid's going to make movies. Watched at City Cinemas Village East Cinema, Second Ave. (where in Dec. 2004 I saw and was dumbfounded by Shane Carruth's
Primer
), 14 Feb. 2017.
RENDEZ-VOUS WITH FRENCH CINEMA (PRESS SCREENINGS AT LINCOLN CENTER)
Nocturama (Bertrand Bonello 2016).
Watching screenings of the Uni-France/Film Society of Lincoln Center series that runs 1-12 March 2017. The best one so far (shouldn't it have been in the NYFF last fall?), is Bonello's Cannes-debut film of a youthful terrorist crew who carry out out their shocking series of attacks in Paris, then hide out for the night in a posh department store where their focus begins to unravel. Smart, thought-provoking, and a dazzling show of neatly economical mise-en-scène and maintenance of non-stop excitement and tension from first to last. Following
Apollonide
and
Saint Laurent
, Bonello has three times shown surprising range and chops as a filmmaker; he's one of the best directors in France now.
More Rendez-Vous with French Cinema Lincoln Center-UniFrance films as covered in my PARIS MOVIE JOURNAL OCT.-NOV. 2016: thumbnails with links to full reviews.
.
Franz (François Ozon 2016).
In b&w, anti-war film with Pierre Niney as Adrien Rivoire, a young French violinist after WWI who comes to Germany to meet the family of the man he killed, winds up pretending to be his friend. On second viewing it seems even more a beautifully crafted and finely paced film. I wish there were another surprise, like that he and the German were actually lovers. That may sound silly, but perhaps in Lubitsch's
Broken Lullaby
he has chosen too one-note a source, even though he's embroidered it, and added linguistic and location authenticity. Paula Beer excellent as Frantz's bereaved fiancee who falls for Adrien.
Mal de pierres/From the Land of the Moon (Nicole Garcia 2016)
About a woman with mental and kidney problems in a loveless marriage who falls for a dying man at a cure. This was still a pleasure to rewatch for certain parts and still too long, and disjointed. Yet Marion Cotillard brings beauty and feeling to everything she does and it's romantic to see her paired with Louis Garrel as a dying officer at a Swiss spa.
L'Odyssée (Jérôme Salle 2016).
Re-watch coming of this biopic about Yves-Jacques Cousteau with Lambert Wilson, Pierre Niney, and Audrey Tautou as the man, his son, and his wife. I promised to pay close attention all the way through to the end this time, and I did. The last part is good, bringing out the tears with the tragedy of Cousteau's favorite son Philippe (though it gives this away at the outset) who died piloting a seaplane. Pierre Niney is handsome and glamorous as never before in his role as Philippe. Niney may have something conventional about him - to go with this conventional film - but he seems likely to go on getting good roles like
Frantz
and this. It still remains true that though this shows some of Cousteau's problems about money and his narcissism and philandering, it's a superficial, pretty picture of him.
Réparer les vivants/Mend the Living (Katell Quillévéré 2016).
Basically a movie about a heart transplant, but Quillévéré deepens, respects, and humanizes this basic theme. I (still) love this; the economy of the surfer section, the contrast with the heart patient's; the fluency of the hospital scenes. Even more clear that Tahar Rahim's "coordinator" is the linchpin. I am not sure this would play well here, because it's so universal it's not especially "French."
Other links to Rendez-Vous film reviews below.
DJango (Étienne Comar 2017).
The Rendez-Vous opening night film, it debuted in Berlin and opens in France 25 Apr. 2017. A blah plot set in WWIi when the great French gypsy jazz guitarist was forced to go into hiding for a while, an understated but suave performance by little known pro Reda Kateb, this is worth seeing for its extended and fine musical interludes, not its other action.
La Danseuse/The Dancer (Stéphanie Di Giusto 2016)
. Directorial debut by Di Giusto about the turn-of-the century American stage performer and theatrical staging pioneer Loïs Fuller, who helped Isadora Duncan get her start and mainly gained her fame in France. A go-for-broke performance by Soko (
Augustine
) and some striking recreations of performances can't make up for the conventional biopic blahs.
150 Miligrams/La fille de Brest (Emmanuelle Bercot 2016)
. True life narrative of a woman's successful struggle against French Big Pharma to get a dangerous drug taken off the market. This may seem a bit dry but its detail pays off in the way it recreates such a fight, and the lead performance by the Danish-born but French-fluent and very colorful Sidse Babett Knudsen in the lead as real-life crusader Irène Frachon really livens things up, as does the typically excellent work by Benoît Magimel (who won an award for Bercot's prevous
Standing Tall/La tête haute
) as Frachon's scientist support leader.
Struggle for Life/La loi du jungle (Antonin Peretjatko 2016)
. Slapstick satire about a government intern sent to Guyana on an absurd mission. With Vincent Macaigne, Matthieu Amalric. They should have stayed home.
Victoria/In Bed with Victoria (Justine Triet 2016)
. Meet Virginie Efira, an excellent comic actress, who plays with Melvil Poupaud and Vincent Lacoste in this unruly comedy about a hotshot criminal lawyer with a disastrous sex life who winds up win love with her babysitter/law intern (Lacoste) after successfully defending old friend Vincent (Poupaud) from the charge of stabbing his ex-in the stomach. Vincent's life is a mess too. I love this movie, though it may lose something in translation and not have a future in the US market. It got raves (AlloCiné press rating 4.0) in France.
Slack Bay/Ma Loute (Bruno Dumont 2016).
Another French comedy, but what a difference! This is one of the strangest and in its way most accomplished films I've ever seen. Back by the sea like Dumont's miniseries
L'il Quinquin
, but in costume because it's 1910, and with a weird haute-bourgeois family, seamen cannibals, a girl who dresses as a boy or vice versa, and more name actors: Juliette Binoche plus Fabrice Lucchini and Valeria Bruni Tedeschi, all playing gauche caricatures. A romantic storm at sea and rescue of a young couple, and soaring Bach music at the end. Go figure. One of the standouts in its off-putting way of the series.
Paris Opera/L'Opéra (Jean-Stéphane Bron 2016)
. A pretty scattered documentary about the double-venue Paris opera that focuses on, well, a bit of everything - the ballet, the chorus, training, a bull used in a Schoenberg production, a young Russian bass-baritone, the director, the backstage manager. Not up to the quality of Fred Wiseman's Paris Opera Ballet doc: too ADD. Of course if the subject deeply fascinates you, you might enjoy it anyway.
Voir du pays/Stopover (Delphine, Muriel Coulin 2016).
Three women soldiers (but the focus is on two) stopover on Cyprus for R & R and debriefing with their otherwise all-male combat unit and encounter emotions, flashbacks, and multiple hostilities. A creditable effort, but it didn't work well for me because it focuses on "virtual reality" and talk rather than the emotional hardcore of PTSD. With Soko, of
Augustine
and this year's
The Dancer
. She is always an intense presence.
Right Here, Right Now/Tout de suite, maintenant (Pascal Bonitzer 2016)
. A mashup of love and finance, a bit cool but with a great cast including Jean-Pierre Bacri, Isabelle Huppert (who kills her few minutes on screen), Agathe Bonitzer, Vincent Lacoste, Lambert Wilson, and Pascal Greggory.
Journey to Greenland/Le voyage à Groenland (Sébastien Betbeder 2016).
Betbeder makes bromance flicks about thirty-something adolescents. This pair go to visit the father of one who has lived in a remote Inuit village for a decade, and they have various quiet adventures and meet-ups with the locals. Featuring Thomas Blanchard of
Poison Friends
and Thomas Scimeca.
In the Forests of Siberia/Dans les forêts de Sibérie (Safy Nebbou 2016).
From an autobiographical bestseller by Sylvain Tesson about how he gave up his Parisian office job and went to spend six months on his own roughing it in the wilds of Siberia. Raphaël Personnaz is the lead. A gnarly Russian fleeing the law is added to spice it up and viewers in France loved this, but the story as told on film has no teeth. Everything seems a bit too easy.
A United Kingdom (Amma Assante 2016).
The Bechuanaland prince (David Oyelowo), in the late Forties, marries a plucky white English woman (Rosamund Pike) and tries to return from his law studies in England to become king. Nothing but trouble ensues with his disapproving uncle - and the British Empire, which wants to stay on the good side of apartheid South Africa. Behind the stolid earnestness (and impeccable acting by Oyelowo and Pike) is a chess game of empire. Probably not accurate, and told very much as a story of the triumph of love over obstacles. Sweet, with an odious imperial British villain or two, especially Jack Davenport as Sir Alistair Canning. It's simplistic, but he's good at it. Not much fun though. Watched at Angelika Film Center 20 Feb. 2017.
The Human Surge/El auge del humano (Edoardo Williams 2016)
. This Venice multiple prizewinner debut film included in prestigious festivals (Toronto, Berlin, NYFF), which made me think of Carlos Reygadas, is a highly committed if zero-budget visual exploration of unemployed youth, movement, following three slim youths around in Argentina, Mozambique, and the Philippines successively, often literally running behind them. Much attention has been devoted to the ingenious ways Williams finds of transitioning from the first section to the second and from the second to the third, and the different looks of the three parts have been admired though, to a cold eye, they ma all three look cheap and grainy - perhaps an intentional vernacular, home-video look. Conversation is mysterious and puzzling. Themes returned to include trouble getting a working cell phone or connecting to the Internet, jobs, online sex for pay. A bathing hole in the Philippines and a ramble in a dark village looking for an open Internet café at the end followed by the coda of repetitious work in an electronic tablet factory. Like Reygadas'
Post Tenebras Lux
it has one brief ravishing landscape. A
Variety
review pointed out how distant this is: you never enter into the lives or feel warmth much, and there is no narrative thread. It's an hour and forty minutes and the first hour felt like one of the longest in my life. And yet there is something haunting. And for cinephiles this is a hint of something new and thought-provoking to come. Watched at a press screening at Metrograph Theater in Chinatown 23 Feb. 2017; it opens there 3 Mar. with wider US release to follow.
Get Out (Jordan Peele 2017).
The first-time director is an African American actor, comedian, film director, and screenwriter, formerly of the Comedy Central show Key & Peele. One reviewer says this will be "the boldest - and most important - studio genre release of the year." The horrible rich white family out in the country focuses its malevolent attention exclusively on black men. Their daughter brings her black boyfriend to meet them for the weekend. It's a Brit who plays the boyfriend, Chris Washington, Daniel Kaluuya. You identify with him throughout. As his TSA employee best friend Rod, comic LilRel Howery breaks the tension nicely by providing humor. Some say the play with racial ideas is more a focus than the horror, and it's not horrible enough. It's just a broad and simple horror movie - seeing the poster for Gore Verbinski's
A Cure for Wellness
on the way out reminded me how much more complex and visually rich that is. Nonetheless I was shattered when it was over. This is a movie that skillfully ramps up feelings and concerns about race we already have or would have. Metacritic rating 83%. Watched at Regal Union Square on its opening day 24 Feb.
Catfight (Onur Tukel 2016).
No, I can't recommend this. Its black humor is too crude. Two women were friends and get into a feud. Anne Heche and Sandra Oh. They have three ugly, noisy fights where they box each other all over the face and first one lands in the hospital in a coma for two years, then the other, ditto (the parallelism is crude too and too simple to be funny). Contemporary political references are thrown in. Watched at Cinema Village 5 Mar. 2017.
NEW DIRECTORS/NEW FILMS (PRESS SCREENINGS AT LINCOLN CENTER AND MOMA)
29 films, and I watched them all in ten days of screenings. Here are Links to the reviews
4 Days in France/Jours de France (Jérôme Reybaud 2016)
Albüm (Mehmet Can Mertoglu 2016)
Autumn, Autumn/Chuncheon, Chuncheon (Jang Woo-jin 2017)
Beach Rats (Eliza Hittman 2017)
Centerpiece Film
By the Time It Gets Dark/Dao khanong (Anocha Suwichakornpong 2016)
Boundaries/Pays (Chloé Robichaud 2016)
Challenge, The (Yuri Ancarani 2016)
Diamond Island (Davy Chou 2016)
Dreamed Path, The/Der Traumhafte Weg (Angela Schanelec 2016)
Future Perfect, The/El Futuro Perfecto (Nele Wohlatz 2016)
Giant, The/Jätten (Johannes Nyholm 2016)
Happiness Academy/Bonheur académie (Kaori Kinoshita & Alain Della Negra 2017)
Happy Times Will Come Soon/I tempi felici verranno presto (Alessandro Comodin 2016)
Lady Macbeth (William Oldroyd 2016)
Last Family, The/Ostatnia Rodzina (Jan P. Matuszynski 2106)
Last of Us, The/Akhar Wahid Fina 2016)
Menashe (Joshoa Z. Weinstein 2016)
My Happy Family/Chemi Bednieri Ojakhi ((Naa Ekvtimiishvili, Simon Gross 2017)
Patti Cake$ (Geremy Jasper 2017)
Opening Night Film
Pendular (Julia Murat 2017)
Person to Person (Dustin Guy Defa 2017)
Closing Night
Quest (Jonathan Olshefski 2016)
Sexy Durga (Sanal Kumar Sasidharan 2017)
Strong Island (Yance Ford 2017)
Summer Is Gone/Ba yue (Zhang Dalei 2016)
White Sun/Seto Surya (Depak Rauniyar 2016)
Wound, The (John Trengove 2017)
Wùlu (Daouda Coulibaly 2016)
Suntan (Argyris Papadimitropoulos 2016).
A Greek filmmaker and a Greek subject: the celebration of sensuality and beautiful young flesh. The story's a little like Mann's
Death in Venice
. This is an older man in love with an unattainable young object. Only Kostis is a middle-aged Greek schlub on a Greek resort island where, as the new town physician, he falls for a holiday-making patient, a twentyish Greek blonde with a posse of gorgeous young international holiday-makers. He follows them around and is indulged as cute, till he becomes tiresome. This lacks the poetry, tragedy, and ability to sublimate desire embodied in Mann's von Eschenbach. Kostis is just a drunken schlub, and a protagonist who's largely just pathetic and embarrassing is harder to care about.
Suntan
holds your attention to witness the train wreck happening, but there may be less here than appears. Watched at Village East 11 Mar. 2017.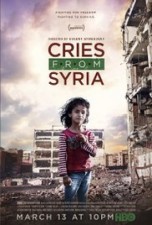 Cries from Syria (Evgeny Afineevsky 2017).
The whole six years of Syrian war in four chapters ending with the weakest (as Boyd van Hoeij says in
Variety
) being the one about the refuges at the end. Heavy on the torture and atrocities such as sarin and chlorine gas use by Bashar al-Asad. There is a ton of Syria docs but this might be the most likely to make you cringe and weep. Afineevsky and a major talking head in the film, activist and liberation journalist Kholoud Helmi, were present for a Q&A after the showing at Cinema Village, the only venue currently for ths Strand Releasing release locally, out yesterday. Watched at Cinema Vilage 11 Mar. 2017.