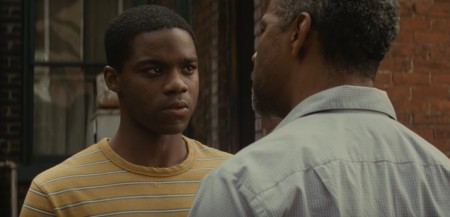 JOVAN ADEPO AND DENZEL WASHINGTON IN FENCES
August Wilson's play brought powerfully to the screen
This screen version of August Wilson's Pulitzer Prize-winning play
Fences
is another exhausting and unfun Christmas movie, like last year's
The Revenant
. Especially for African Americans who may not have seen an August Wilson play on the stage, it's a worshipful and dutiful experience. But it's still wonderful that non-playgoers, and all the larger audience Wilson also wanted to reach, should get to see one of his best works, splendidly performed. I've seen a number of his plays on the stage. None has moved me as this film did.
When I saw the first show at ten a.m. at the cineplex on 25 December, the small auditorium was pretty full, with a majority of people of color. I enjoyed the black women's choral responses in the war between the sexes represented by Viola Davis and Denzel Washington. They cheered Viola on, and justly so. This is the most powerful role she's ever played on screen and puts her in the Oscar race again. "That was
deep
," a guy quietly said as we got up to leave.
The Revenant
delighted many but it's a long-ago over-the-top S&M fest way up north.
Fences
is African American family social history writ large, on an epic and tragic scale. Its themes of betrayal, humiliation, love and denial are timeless and relevant.
Denzel Washington's film carries over to the screen the revival he and his costar Viola Davis performed in (with two other cast members) in the 2010 Broadway revival. We know this is a play, too little shaken up, not made especially cinematic, and a bit meandering in this form. It's still a marvelous production of a shattering, titanic work. In this big-screen, bright-colored, close-up, music-free form, this movie invests the most intimate, disturbing moments of Wilson's battle of the sexes and the generations with a vivid intensity that rocks one to the core. This is a film that makes known to multitudes the greatness of August Wilson.
And the black woman next to me said quietly after a while, "He's turned out to be a bad man." And then a while later, near the end, she revised that to "He's turned out to be a shit!" She was talking about Denzel Washington's character, Troy Maxson, a Pittsburgh garbageman. He was a baseball player in the colored league - this is the mid-Fifties - but his career fizzled. Now his highest aim is to graduate from lifting cans and become a driver, hitherto a whites-only job. He has a wife and two sons, he owns a small house. But finances are tight.
Troy is a father who in plain words responds with a tirade when his younger son Cory (Jovan Adepo) asks him why he's never loved him, and blocks him from the career break of college on a football scholarship. Troy is ashamed to have gone nowhere; but later we find out how much lower and harder his beginnings were. He puts away a pint on payday with his easygoing coworker and longtime friend Bono (Stephen Henderson), and when his older son Lyons (Russell Hornsby) comes around to ask for ten dollars it's squeezing blood from a stone. Eventually there will be a shattering discovery that he's betrayed his eighteen-year marriage to Rose (Viola Davis). Hovering around is Troy's tragicomic brother Gabriel (Mykelti Williamson), an addled war veteran with a metal plate in his head. Behind the carnival sentimentality of Gabe's character is the further humiliation for Troy that it's government aid for his damaged brother that's made it possible for him, Troy, to own a house in the iconic Pittsburgh Hill District of August Wilson's epic century-spanning Pittsburgh Cycle. The house is largely the setting for one-on-one battles Troy wins, till he ends by losing the war, yet when he's gone, even Cory must acknowledge his power.
The film was, evidently, shot in Pittsburgh. It has that feel of a rickety, poor old East Coast urban house. The cityscapes are satisfying. If this isn't quite a film, it's more than a filmed play. An exceptionally strong newcomer in the fine cast is Jovan Adepo, as Cory, another English-born actor of partly African descent who's made it triumphantly into American TV and movies. This is his debut film role, and what a debut it is. It may not hurt that Adepo said he was initially terrified by playing opposite Denzel Washington: that's pretty much the way Cory is with Troy. Their battles are intensely fraught, as are several verbal battles between Troy and Rose. But however the emotion and drama, pity and rage roar and surge, Wilson's monumental themes, which in
Variety
Owen Gleiberman likens to"
A Raisin in the Sun
crossed with
Death of a Salesman
," always shine through.
The Metacritic rating is 78. There are some dissenters, below the raves, all complaining that this isn't cinematic, too stagy. But when it's a question of acting and drama of this caliber, sometimes that doesn't matter. This film feels ready to stand the test of time.
Fences
, 138 mins., limited US release 16 Dec. 2016; wider, 25 Dec.; UK release 17 Feb. 2017.