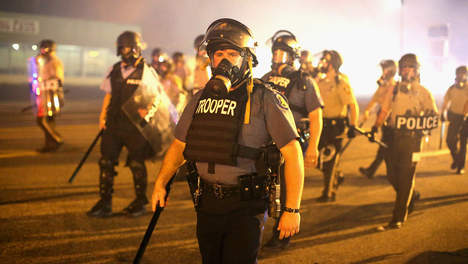 POLICE IN FERGUSON, MISSOURI FROM DO NOT RESIST
A disturbing documentary about "The crisis of police militarization"
Today's American war machine produces "war surplus" like never before. And the government is giving it to local police departments. This means the growing militarization of police: they're increasingly over-supplied and over-armed. And because equipment on hand is likely to be used, that's dangerous, especially since they are often not taught how to use it. This is what we seem to be seeing in the way the police invaded neighborhoods like an infantry division in Afghanistan after the Boston Marathon bombing in 2013, and the way overwhelming force, troops, weapons, and tear gas, was brought out against protesters in Ferguson, Missouri in 2014 after the killing of unarmed teenager Mike Brown by police officer Darren Wilson. Sometimes the phenomenon seems just ludicrous, as we see here when the city council of Concord, New Hampshire votes, against citizens' voiced protests, to accept the gift of a $250,000 "Bearcat" attack vehicle - for a place that has a total of two homicides since 2004. But it's not funny when Atkinson shows us a giant military vehicle rumbling through the little New England town, and such an event is not a fluke but increasingly the way things are. It seems Atkinson doesn't want to propose a solution, just mainly to scare us. But he does a very good job of that. And being the co-cinematographer of the visually elegant
Detropia
, Atkinson fills his film with intense moments and striking, rough-but-handsome images.
Fact: Homeland Security has given US police deparments $34 billion in grants to buy military-style equipment. The Department of Defense gave $5 billion in free equipment to them. Atkinson's film shows that "SWAT" (Special Weapons and Tactics) teams are equipped much like military assault forces now, and the use of them, with their greater numbers and outsize military vehicles, is increasing. They are hired in to "sweep" a "scene" where illegal drugs are suspected to be dealt or stored. The filmmakers chronicle such a SWAT team "drug bust" in South Carolina, routine there, apparently, where the "catch" turns out to be a young black man with dreads and a day pack with a few loose buds of marijuana. He is released that night, but probably over a thousand dollars worth of damage has been done to a window of the family's house, and they have terrorized.
According to an informative May 13, 2016 article about this film and its subject by Dexter Fillkins for
The New Yorker
online, entitled "
Do Not Resist
and the Crisis of Police Militarization," Atkinson's personal starting point was the legally dubious Boston police response to the Tsarnaev brothers' Boston Marathon attack, which overrode civil liberties in homes and neighborhoods and treated them, as mentioned, very much like an enemy combat zone. But in this film, it is the police riots against the demonstrators in Ferguson in 2014 that are constantly referenced throughout, and he shows Senate hearings that resulted, showing that those events awakened government officials to how "law enforcement" was overriding civil liberties on a massive scale. The government somehow gave out 12,000 bayonets to local police departments, someone points out. What for? The Homeland Security rep has no answer.
The most unnerving person in the film is Col. Dave Grossman, a popular motivational speaker for military and police audiences. Grossman, for one thing, blurs the line between military and police. He believes those uncomfortable with the heavy arming of local police should be lined up and shot. He tells cops their job is to do violence, and he encourages him by saying that after a day of heavy assaults they'll have their best sex in months.
The windup is a focus on independent security firms. They use drones to surveil an entire community. Current equipment - and a woman police officer in her vehicle demonstrates it - can identify any car on the road, and if it can get a fix on people's faces, it can use face-recognition technology to identify them and look up their records, and this is legal, because they're in public. Other "experts" can use computerized statistical analysis to tell people if their yet unborn child is, or is not, likely to be charged with murder by the age of eighteen. And if drones that attack do so more surely running by themselves than when being piloted remotely by a human, isn't it better to let the computer do the job?
This reminded me of a quote from the great John Le Carré's latest novel,
A Delicate Truth
- about a related topic, the commercialization of warfare. It's spoken by Jay Crispen, the despicable head of an independent contractor "security firm" called Ethical Outcomes. The burden of the book is a failed British government operation involving Ethical Outcomes that wasted a few millions with no result other than the killing of two innocent civilians. Crispen scoffs at this concern over the two deaths. "Give me a Predator drone and a couple of Hellfire missiles," he says, "and I'll show you what real collateral damage looks like."
Thanks to cooperation between the FBI, Homeland Security, and your local police force, Predator drones and Hellfire missiles are coming your way. The message of Craig Atkinson's unnerving film is that things are only going to get worse.
Do Not Resist
won the Best Documentary prize at the Tribeca Film Festival this year, and its important warning of the dangerous growth of police militarization parallels that of another new documentary, Ava Ava DuVernay's
The 13th
, this year's opening night film for the New York Film Festival, which treats the mass prison warehousing of young African Americans as an extension of slavery. Both of these phenomena can be seen as terrible inroads on civil liberties. Or they can be seen as merely aspects of economics, whose "supply-side" version argues that economic growth is best fostered by investing in capital and lowering barriers on production of goods and services. Militarizing local cops and growing prisons invests in capital and moves goods and services. It makes somebody a lot of money, chiefly government suppliers and independent contractors. It also costs taxpayers a lot. The degree to which war is pure business for some became clear, if it wasn't before, during Bush's invasion of Iraq. Collateral reading might be Naomi Klein's book
The Shock Doctrine: The Rise of Disaster Capitalism
. Atkinson's film focuses on the militarization of
American
police. Unfortunately, American documentaries sometimes forget to see beyond the USA. But this phenomenon of police militarization is happening in many other places, as in fact is the use of American independent war contractors described realistically in Le Carré's novel.
Do Not Resist,
72 mins., debuted at Tribeca 14 April 2016, winning the Jury Best Documentary Feature award, and showed at a handful of other documentary festivals and Mill Valley Film Festival (Oct. 9 & 12, 2016). Opening 14 Oct. in Los Angeles and Pasadena, and national rollout follows; 21 Oct. at Roxie Cinema in San Francisco. Opening US limited theatrical release begins at Film Forum, NYC 30 Sept. 2016.