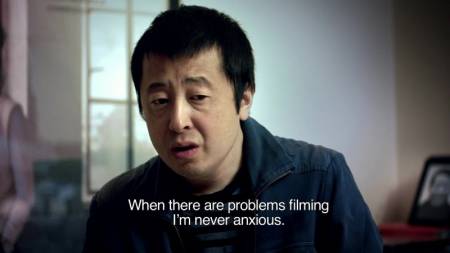 JIA ZHANG-KE IN THE FILM
Detailed ruminative film about the Chinese director
Jia Zhang-ke is a filmmaker worth studying. His work is all about the modern China that in his lifetime has gone from a planned communist economy to a market economy and had its habitations and landscapes ravaged and dismantled in the process. An interesting aspect of him, which he talks about here, is that his early films were not approved by the government and so could not be shown in cinemas. To his surprise one day, he learned that pirated DVD's of them were being manufactured and selling like hotcakes. Thus he became famous with the public.
Ten years ago I wrote a
roundup
of the three of his early films that I'd seen, which were enough to convince anybody he was a key young Chinese director with crucial things to say about his country. I had not (and still haven't) seen his two first films, the 1995
Xiaoshan Going Home
and 1997
Pickpocket
, so I discussed his 2000 film
Platform
, the long, chaotic, but enormously rich picture of the Cultural Revolution and its end; the 2002
Unknown Pleasures
, a heartbreaking portrait of two young misfits; and 2006's
The World
, centered on a global theme park reflecting a world at once enlarged and shrinking. The first two are set in Jia's rural Fenyang, Shanxi, and the third around Beijing. At the time of Salles' documentary he has made
A Touch of Sin
(2013), an episodic film depicting growing crime, violence, and disaffection in the country whose debt to wuxia is hinted by the reference to King Hu's
A Touch of Zen
. (His latest, the 2015
Mountains May Depart
, isn't mentioned.)
There are several others I've seen of which the most notable is
Still Life
, a documentary-like vision of destruction and rebuilding. It was shot in the old village of Fengjie, a small town on the Yangtze River which is slowly being destroyed by the building of the Three Gorges Dam. Jia's films are shot in a cool Asian style of still camera angles and no closeups that conveys a sense of detachment. Yet they can be enormously moving and almost all of them have at least moments of sheer brilliance. They are continually evolving, not in all ways successfully (like the country): I still find
Platform
and
Unknown Pleasures
the high points. Each successive film pursues Jia's special passion: to observe his country, starting at home, its lives, morals and morale, and the enormously destructive current upheavals caused by unbridled economic growth and construction.
We see that - destruction and building - in this documentary too, as Jia walks around his home town and sites of film sequences commenting on what has been moved around or changed. Jia himself, talking endlessly and ruminatively, often smoking, has a sweet smile that plays about his lips but may repress inner torment that only being creative relieves. He says tellingly, that he's never happy when things are going well, that he must always be finding new things to say and new ways to say them - an obsession for change like the country whose developments he rues.
The film blends in clips from the films seamlessly, illustrating themes or settings, as key associates, such as a cameraman Yu Lik-wai and editor, actors, and his wife and muse, Zhao Tao, are heard from. There is a wealth of information, OF casually filled in riches; indeed Guy Lodge, in his
Variety
review thinks there are more clips from Jia's oeuvre than necessary. But it is always good to be reminded of the films. And though this may be incomprehensible to anyone who hasn't seen them, it may also inspire them to do so.
This documentary may bot be not a film that will appeal directly to non-fans of the great "sixth generation" Chinese filmmaker it is about, or even make much sense to them at all. It will offer some material to chew on for fans, of which I myself am one. Though it evidences an admirably high level of access - most of it consists of direct interviews with the director, it may does not seem in style worthy of its subject, whose best work is so vivid, rich, and touching. This fact gibes unfortunately with the unevenness of the Brazilian Walter Salles' oeuvre, which has ranged from the classic
Central Station
to the enjoyable mediocrity of
The Motorcycle Diaries
, the forgettable
Linha de Passe
and the flop of
On the Road
. And yet this is a faithful and richly informative portrait of the artist, which students will come back to repeatedly.
Jia Zhangke: A Guy From Fenyang
, now listed on IMDb as
Jia Zhang-ke by Walter Salles
and listed as 103, 100, or 99 mins., debuted in October 2014 first at São Paulo, then Rome; nine other international festivals including Berlin, London, and New York. US theatrical release by Kino Lorber 27 May 2016 (in NYC, at Anthology Film Archives).