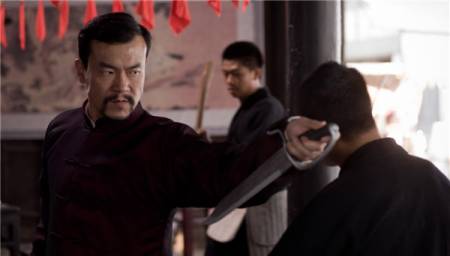 LIAO FAN IN THE FINAL MASTER
Preview
The subject matter of Xu Haofeng's brilliant and well-made new martial arts film
The Final Master
is closely related to Wong Kar-wai's recent Ip Man biopic
The Grandmaster
, but declares itself as a wittier, lighter, and more accessible film from the first few frames. Xu wrote the screenplay for
The Grandmaster
and recently wrote for Chen Kaige; he seems to be enjoying his freer rein here. L.P. Hugo, whose review in
Asian Film Strike
is the best informed and best written piece on this film I've come across, describes Xu as a "Wu Xia author, martial artist, film critic, Taoist scholar and film director." He sees Xu's style as clipped and efficient like that of David Mamet (who made his own martial arts movie,
Redbelt
), "a kind of sardonic realism, stripped of all sentimentality and with narrative signposts reduced to a bare minimum."
The film is plenty complicated, but its style
is
pared down, bracing, free of that need to be epic, brooding and beautiful that has seemed to weigh down Wong Kar-wai's latest, increasingly elaborate, films. And we need this, because the task of
The Final Master's
protagonist is going to be heavy enough in itself. He will have to defeat eight martial arts schools in the city of Tianjin in order to qualify to establish one of his own there, but do so without so offending local pride as to be banished. As we will gradually learn, this will require some dangerous and morally dubious subterfuges.
Stay tuned for my full review, which will appear prior to the film's coming 3rd of June US theatrical release.
The Last Master
is based on Xu's own bestselling novel, and he did the prize-winning fight choreography as well as directed.
The Last Master
/Shih Fu/師父, 109 mins mins., debuted Dec. 2015 at Taipei, wining Best Choreography, with two other nominations, and showed at several other festivals. Its limited US release begins 3 June 2016.