RENDEZ-VOUS 2016 roundup
SORIA ZEROUAL IN FATIMA
Favorites going across categories are
Fatima
,
Summertime, Standing Tall
and
Much Loved.
There were relationship films, which I'd rank in this order:
Summertime, Two Friends, Parisienne,
, and
My King.
There was representation of Arabs in various roles, in stories, as directors, they could be found everywhere. A number of the films concerned immigrants:
Fatima, Dheepan, Parisienne
-- but maybe a better category is
outsiders
. This would include
Summertime
, about gay people in love;
Standing Tall
, about a violent, disturbed boy who is rejected by the system;
Much Loved,
about prostitutes in Morocco;
A Decent Man
, whose alcoholic, rage-a-holic young man is most of all just at the low end of the system; and of course the immigrant films already mentioned; and even the charming
The New Kid
is about an outsider, a student rejected because he's from out of town.
And Pier (Niels Schneider), in
Dark Inclusion
, the black seep of a rich diamond producer family, is also an outsider, or believes himself to be one. So is the illegitimate son of the unsuccessful
The Apaches
, very much an outsider who won't accept being accepted by his father's Berber clan. Were there any insiders in this film series?
It wasn't all successes. I didn't find Valeria Bruni Tedeschi's
Three Sisters
Chekhov adaptation, with its gratuitous sexy teaser opening, much of a success. Didn't she just turn it over to a cast from the Comédie Française? Rabah Ameur-Zaïmeche's
Story of Judas
seemed quite pointless, Julie Delpy's crude comedy
Lola
deeply annoying. Maïwen's
Mon Roi
is also a pain in the neck, however good the acting may be, it's a bore to spend time with these people.
21 Nights with Pattie
seems like self-indulgence-- though not of a commercial, Hollywood kind, certainly.
But thanks to the Rendez-Vous (and the New York Film Festival, and a little side viewing on my own) I arrived at 2016 César time perfectly prepared. If official public acclaim means anything, the 2016 New York Rendez-Vous with French Cinema was one of the best in years, because it included so many award-winning or nominated films at the Césars that came just after the New York press screenings ended:
Fatima
was chosen as Best Film; and
Dheepan, Mon Roi
and
Standing Tall
were among the eight nominated. Other titles were in the New York Film Festival, and I'd reviewed them, as well as
Dheepan
(seen in the LFF) and
Mustang
(released in the US). Of the Best Actress César nominees, only one, the winner, Catherine Frot (for
Marguerite
, coming to US theaters), was not in the Rendez-Vous this year. We saw Loubna Abidar as the lead prostitute in the rich, immersive
Much Loved
, the crazy-emotional Emmanuelle Bercot (Best Actress at Cannes) in
Mon Roi
, the ebullient Cécile de France in
Summertime
, Deneuve as the judge in
Standing Tall
, Huppert in
Valley of Love
, and the excellent newcomer Soria Zeroual in
Fatima
.
Three of both the five Best Actor and five Best Actress nominees were in the Rendez-Vous, including Best Actor winner Benoît Magimel for
Standing Tall
. Both Meilleurs Espoirs (Most Promising), male and female, were from Rendez-Vous films. Rod Paradot's touching acceptance speech (for his role as the delinquent boy trying to get better in
Standing Tall
was by all odds the emotional highlight of the Césars
cérémonie.
Another nominee was Finnegan Oldfield, the lead actor in
Bang Gang
.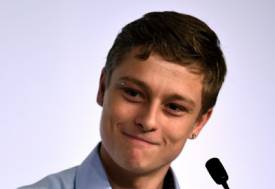 ROD PARADOT RECEIVED 'MEILLEUR ESPOIR MASCULIN'
We tend to think of the French as cool and blasé. Rod Paradot's flustered, impassioned
speech
was a reminder of how disarmingly emotional and authentic they can be. And this is what the Rendez-Vous was this year: a lot of emotion, sometimes unrestrained, sometimes all the stronger for being held back.