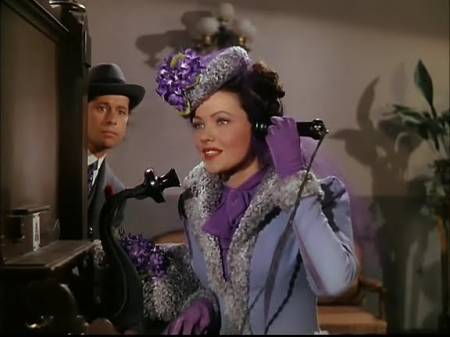 DON AMECHE AND GENE TIERNEY ABOUT TO MEET IN HEAVEN CAN WAIT
A roué on the brink of Hades reviews his life in a minor film that shows Lutitsch's light touch and charm
This is not one of Lubitsch's best films, but still shows his charm and light touch in a remastered version that does full justice to its "glorious, candy-box Technicolor. . . beautifully restored by Schawn Belston and his team at 20th Century Fox." It's a wartime triumph of the Hollywood dream machine. It's a historical fantasy about a time when the richest people in New York lived in big greystone mansions on Fifth Avenue. The framework is a consideration of whether the protagonist, the recently deceased Henry Van Cleve (an excellent Don Ameche), warrants admission to Hell by a courtly Satan (Laird Cregar). The interview leads Henry to recall his past life. There are just a few scenes at different stages, when Henry was a cocky teenager, as a young man who steals Gene Tierney from his boring cousin when they are about to get married; winning her back when after a decade she runs to her rich, boring, squabbling parents in Kansas; and Henry's attempts to remain a "player" when a (by Forties standards) superannuated sixty-year-old; and ready for extinction at seventy.
There is sharp verbal promised in the frame tale exchanges like Satan: "I presume your funeral was satisfactory." Henry: "Well, there was a lot of crying, so I believe everybody had a good time." The body of the action co-scripted by Samson Raphaelson is more romantic and kind-hearted. Also with Louis Calhern, Eugene Pallette, Marjorie Main, and Charles Coburn as Henry's grandfather and fellow black sheep. Gloriously cinematic in an old-fashioned Hollywood studio way, this is a succession of grand interior sets created to expand the original play by Lazlo Bus-Fekete.
Henry tells his life story to Satan at the elegant gate of Hades to see if he qualifies. He turns out to have been a better guy than he realized, despite a bit of womanizing. No connection to the 1978 Warren Beatty/Buck Henry movie; no traipsing back and forth between earth and the beyond in this one. It's more a sequence of scenes that dramatize a romanticized rich class of naive Midwestern beef moguls and Fifth Avenue millionaires for whom work was a choice, not a necessity. I'm not so keen on this kind of fantasy -- there's not enough of an edge in this rote Hollywood version of it -- but I can appreciate the polished studio work and the beautifully artificial Technicolor.
Heaven Can Wait
, mins., 112 mins., was originally released in the US 11 August 1943. Restored and rereleased by Twentieth Century Fox in collaboration with the Academy Film Archive and The Film Foundation. Screened for this review as part of the 2015 New York Film Festival where it was presented as part of the Revivals section.