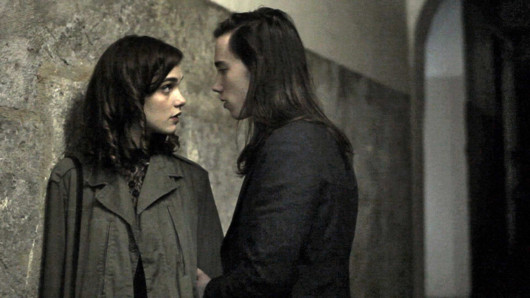 CAMILLE RUTHERFORD AND LUC CHESSEL IN LOW LIFE
Moody romantics and doomed illegals in Lyons
Nicolas Klotz and his partner and co-writer Elizabeth Perceval's previous film
Heartbeat Detecter/La question humaine
(2007; Rendez-Vous 2008) featured Mathieu Amalric and Michael Lonsdale as an investigator and the CEO of a sinister corporation with an emerging Nazi past. It was a complex and interesting film, enjoyably mysterious, finally disturbing and powerful. Their new film,
Low Life
, with its earnest, good looking young people, is charming and fun; surely one isn't supposed to take its broody romantics seriously at the beginning? The film seeks to focus on the sufferings of illegal residents in France. But it remains primarily a pretty and artificial film, and its attractive poses of brooding romanticism tend to overwhelm its sociopolitical focus.
Low Life
wavors somewhat confusingly between bourgeois would-be revolutionaries and illegal foreigners in Lyon, with its Afghan poet in love with a local girl and its scattering of young Africans who attempt to put curses on their expulsion documents and their bureaucratic enemies, a device that backfires. The girl, Carmen Alvarez (Camille Rutherford) switches from the immature poseur Charles (Luc Chessel), who at first seems as though he will be the main, if ironic, character, to the foreign poet, Hussein (Arash Naimian), whom she meets when students clash with police in an effort to save Africans in a squat. It would be so much simpler, Hussain says, if he were Egyptian, but he's Afghan -- and a scrawny, by all indications brilliant young student of French literature with thick lips and and a nice smile. He and Carmen soon become inseparable, and Charles cedes the field, though remaining in reserve.
With its doomed, proto-revolutionary poet-lovers (some of whom wish their street demos would be livened up by bombs), this new Klotz film is rather like a 21st-century version of Philippe Garrel's
Regular Lovers
. There is the same darkly happy dance scene (and lengthy partying), the same doomed poet lover, the same scenes of street fighting and moody, poetic youths. In fact an earlier poster gives the title as
Les amants,
The Lovers, suggesting a direct influence, but a different mixture.
Indeed too much of a mixture. This film isn't rooted like Garrel's is a revolutionary historical moment (1968). Its narrative threads do not cohere as well as Garrel's, or stand up to the level of Klotz's previous film. I would have been happy with the pretentious and naive young French people -- with the juvenile, preposterous, but irresistible Charles, spouting poetic revolutionary phrases and declaring undying love in good French accents while showing off their long hair and good cheekbones. But once the bourgeois dropout kids come into contact with the young illegals their posturing begins to seem irrelevant. Unfortunately they never leave the scene. (Charles may also be a reference to Bresson's doomed protagonist in
Le diable probablement
.)
The Afghan poet lover Hussein has had a document issued ordering him to leave the country and after three years has been denied asylum. He and Carmen remain together and he goes into hiding in the house. Together at times he and Carmen go into a torpid semi-narcoleptic state together, a condition they call "low life."
Charles still comes and goes, having given up all projects other than Carmen, contemptuous of his father but willing to share a good bottle with him when opportunity arises. Charles's pretentious and naive romanticism remains absurd but somehow charming, as when he lies in a pond as if to drown himself, but is only posing. Apparently to console Charles for being dumped by Carmen, there is a passage of flamenco singing and dancing. There was something like this in
Heartbeat Detector
too (in that case Portuguese fados) but there it heightens the tension. Here it just seems a bit off-key. The Africans paint their faces and enact a voodoo rite, but while they show the desperation of illegals at another level, there's a dangerous feeling that they are being exploited for visual effect.
Klotz-Perceval do not weld together separate elements the way they did in
Heartbeat Detector,
where everything is unified by the interaction between contemporary malaise and the corporation's sordid emerging Nazi past. The only thing that holds together
Low Life
is youthful romanticism and a strong visual sense. No matter whom we're looking at the young people all look good, and some of the shots of interiors by Hélène Louvart using only a Canon 1D DSLR look quite handsome. There is also a good sound track of studio and mixed music and voice by Ulysse Klotz and Romain Turzi. The middle-aged Klotz and Perceval capture the naivety and pretension of the young almost too vividly. It would be fine if all this were tongue-in-cheek, except that the students' early-on revolutionary clash with the police seems only make-believe.
It is hard to link jingoistic French cops with Nazis, as Carmen tries to do, and hard to make the theme of this film as powerful as the theme of Klotz's last one, especially when some of his moony youths are so silly at times. Given the harsh theme of the undocumented, there is too much posing and not enough reality.
Low Life
debuted at Locarno, and also was shown at Toronto in 2011. It goes into theatrical release in France April 4, 2012. It is also a part of the March 1-11, 2012 joint UniFrance and Film Society of Lincoln Center series Rendez-Vous with French Cinema, in connection with which it was screened for this review. Three public screenings will be given during the Rendez-Vous at the Walter Reade Theater and the IFC Center:
*Sun., March 4, 8:30pm – WRT; *Mon., March 5, 10:05pm – IFC; Wed., March 7, 2pm - WRT
*In person: Nicolas Klotz